A pesar que muchas tecnologías y cosas que trabajen gente como Apple siguen siendo un secreto, es bueno saber que contamos con personas que están pendiente a las publicacion4es de patentes de la USPTO. Para en el caso de Apple, pues hay novedades.
Bajo la patente 9,504,170 o "Flexible display devices" ha sido revelada a favor de Apple y es que esta patente que data de Julio 2014 tiene la siguiente descripción:
Electronic devices may be provided that contain multiple housing portions. The housing portions may be coupled together using hinges. The hinges may include hinges based on a three-bar linkage, hinges based on a four-bar linkage, hinges with slotted members, hinges formed from flexible support structures, and hinges based on flexible housing structures. Flexible displays may be mounted to the housing portions overlapping the hinges. When the housing portions in a device are rotated relative to each other, the flexible display may bend. The hinge may be configured to allow the flexible display to be placed in a front-to-front configuration in which an active side of the display faces itself or a back-to-back configuration. Engagement structures may be used to help the housing grip external objects and to hold the housing portions together. The hinges may be provided with rotational detents to help hold the flexible display in desired positions.
En arroz y habichuelas, al parecer Apple lleva al menos dos años trabajando fuertemente con las pantallas flexibles cuando Samsung y LG dieron la fiebre de Smartphone con pantallas que se pueden doblar pudiera ser divertido.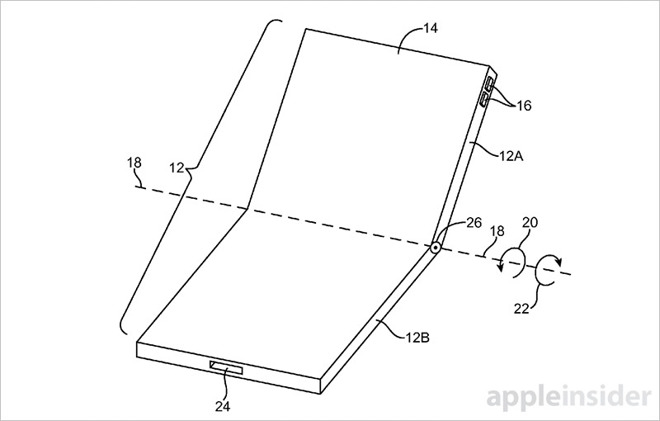 Y técnicamente hablando, otra razón adicional para favorecer pantallas OLED ya que la misma necesita ser considerado para que la flexibilidad sea viable y los bordes estarían amarrados con un metal flexibles ya sea de níquel o de titanio.
El concepto de Apple pudiera significar que el flip pone pudiera estar de vuelta pero tomando en cuenta que la evolución del diseño de iPhone data de casi diez años, es poco probable que Apple lanzará un formato flip a estas alturas pero no se puede 100% descartar.